I recently made a 2 tents for a GQ event here in Brooklyn. They hosted a night for designers NSF, The Hill-side, David Hart and STAMPD who won 2015 Best new menswear designers in America. They were honored at an event September 28th at Crown Victoria in Williamsburg. The idea was to create pop up shops for a night to showcase the goods made by these designers and launch their newest collaboration with the Gap.
My part in the event was limited to construction of the 12x12 foot tents that would house the designs of The Hill-side and NSF. They were set up along side two vintage air stream trailers for the other designers. Each tent was made to fit the existing armature of a pop up tent, but had to feel custom and elevated. I created slip covers to mask all of the armature on the interior and used about 70 yards of fabric to make each one!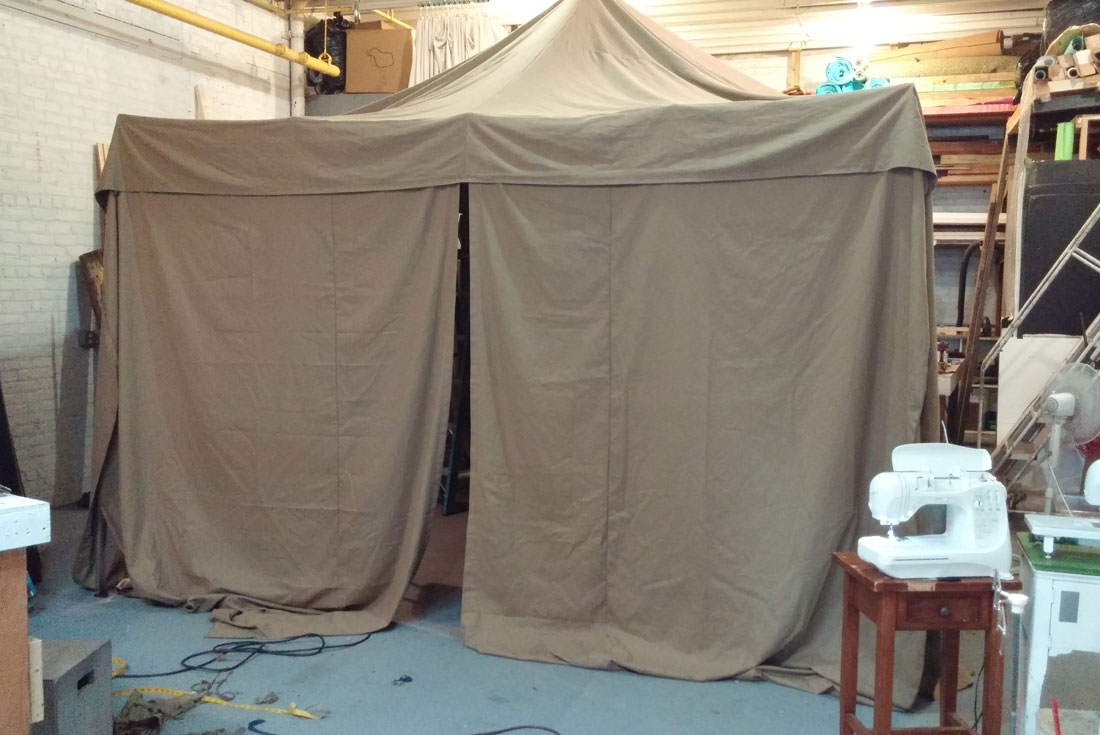 I have done a lot of sewing in my life, but never anything at this massive scale. We had to create 12 ft wide walls that were over 11 ft tall, that's a lot of fabric to send through a standard sewing machine! Fortunately we had the benefit of a serger which allowed us to finish edges without adding a hem. Saved HOURS, reduced bulk and was really important to the craftsmanship.
We ended up making two different designs of tent. The khaki tent is made of one large piece that drapes over the top and then has panels that drop down in the front and back. The doors swag to the left and right side. It has a Safari feel to it with a nice overhang and a tall opening. The navy tent we constructed out of 4 identical pieces and sewed them together from the peak to the frame. I decided to have the doors roll up on this tent. They fasten with lovely natural colored cotton webbing and oil rubbed bronze D rings. This tent feels nautical to me. Both tents have an open structure below the armature for more flexibility in use. Depending on the weather, if it's a hot day you can get a nice cross breeze going from any of the 4 sides.
And some finished shots which include the styled fixtures and products as well. The stylist for the event paired my tents with lush rugs and beautiful hardwood flooring. It had a really fun glamping vibe that I think goes great with the menswear featured in the pop up!